Molly's for Sale!
That's right; I am putting Molly up for sale. You may be asking yourself how I could possibly dream of letting her go. Well, this is a decision months in the making. She's been sitting out back under the palo verde tree and is lucky to be taken out once in any given month. Overall, I end up spending more time washing the van than I spend driving it. After a need for funds for an upcoming project, I decided it was time to let her go. I need to find a good home for her, so I'm writing this with intent to link in from Craigslist, from Rant 'n' Rave Forums fame.
For Sale: 1977 Ford E350 Custom Van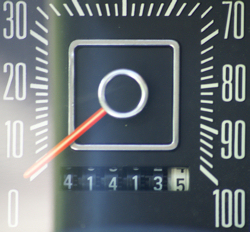 First and foremost, the van is in sound mechanical condition. I bought her in 2006 with only 30,000 original miles. It was built up as a show car, and was garaged for most of it's life. I bought it from a collector who was moving and didn't want to transport his cars to his new home. Two years later, there are under 42,000 miles.
This has the 351 V8 (Not sure if Windsor or Cleveland). It purrs like a kitten; it sounds perfectly balanced.

After sitting for so long, some problems did come up. I had the rear-end, transmission and carburetor rebuilt. There currently is an oil leak that loses a quart every few months.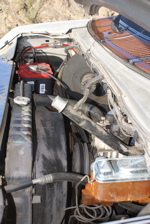 It passes emissions. It currently gets some 13 to 15 miles per gallon on the open road. I haven't tested for in-town driving. According to my mechanic, the air conditioner does work, but it isn't blowing cold.
The brakes are good. The drive train is perfect. The engine is perfectly balanced. I trust it to go anywhere.
My mechanic can attest to this, and I would be happy to give you his number. I've always brought it into him before going on long trips and he always thought I was being a bit paranoid.

Exterior
The van has had a lot of body work done. This is all metal work, with no fiberglass. Parts were taken from other vehicles from the era. The roof is from a Vista Cruiser. The tail lights look to be from a Trans Am, as do the side vents. The door handles are from a Cadillac. The windows are complete custom. The radio and CB antennas are housed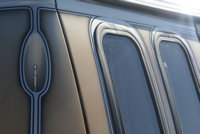 within French cups inlaid in the rear corners. The wheel wells and sides are extended outwards a bit. There is a cal induction hood and the grill extends all the way across between the headlights. The side door has been converted to open as a gullwing. There is a lot of attention to detail in the body work on this van.
As you can see, the paint is just as detailed. I found the paint list and there are 9 factory Ford colors, 7 of which make up the top-to-bottom fade. There are some chips in the paint here and there.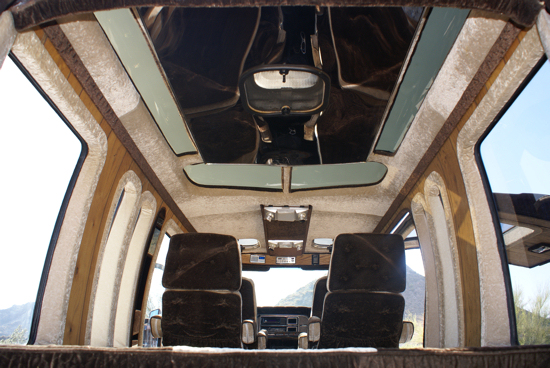 Interior
The inside is completely done in a two-tone brown/tan plush. There are 4 swiveling captains chairs and a bed in the back. There is a hole for a table or stripper pole, neither of which come with the van. Above is a mirror with a vent in the middle, and surrounded by canopy windows.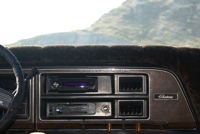 There is a decent sound system in the van. This includes a 6-channel JL amplifier, two 10inch Alumapro Alchemy subwoofers, two sets of MB Quart component speakers, and a Kenwood deck.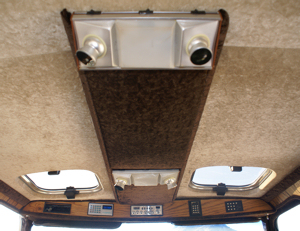 Above the dash is a control panel. This includes a CB radio with a PA system. This is good for yelling at people on the street. Everybody loves that. There are other boxes in there that aren't working. One is a cruise control system that may work, but is not hooked up. There was an equalizer, but that was stolen and now there is only an open spot on the driver's side where that was.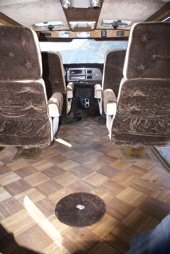 There are wood pergo floors which really sets the interior apart. The walls are done in wood paneling, which went out of style in the 80's, but looks perfect inside the van.
The windows are all tinted. It's not a very dark tint, so be careful of this! Passerbys can see inside. It does help with the sun, however.
Sale Details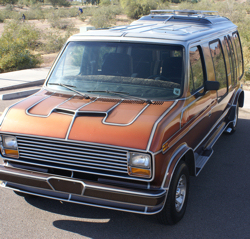 My neighbor's friend (the best resource I had) took a look and said it is worth about $12k, mainly due to the rarity of the E350. Because of the blemishes, and that oil leak, I'm looking for only $7,000. If you have any questions, give me a call at 480.452.4497, use my contact form, or leave a comment below.
Thanks for looking,
Matt
Back to Top